Terror of the Stratosfiend: TROIKA! Edition #1
Regular price
Sale price
$9.43 USD
Unit price
per
Sale
Sold out
Beasts, horrors, and humans from stars beyond stars, pour through portals and reduce the land to ash. What more could you want? A talking shotgun? We've got that. A staff that hatches into a living breathing creature? We've got that too.
Ever wanted to take command of a 15 foot tentacled horror? Maybe you would rather find out what it's like to unleash unbridled psionic energy? Perhaps you'd rather sneak through the streets and sell your skills to the highest bidder? Or maybe you just wanted to call down the aid of a maniacal weapons satellite?
Inside you will find 6 new backgrounds, new equipment to harness, new armor to wear, new weapons to use, and a weapons system upgrade.
This product is compatible with TROIKA!
Cover art by James Everett Jackson, Internal Art by 2-headedgiant, Skullthug, James Everett Jackson, Graz, Layout by Glynn Seal, and writing by Sean Richer.
Offering of Dark Space Nachoes:
Terror of the Stratosfiend : TROIKA! Edition is an independent
production by Orbital Intelligence, LLC and is not affiliated with
the Melsonian Arts Council.
26 pages, 5x8, staple bound zine, black and white. Includes PDF.
Share
View full details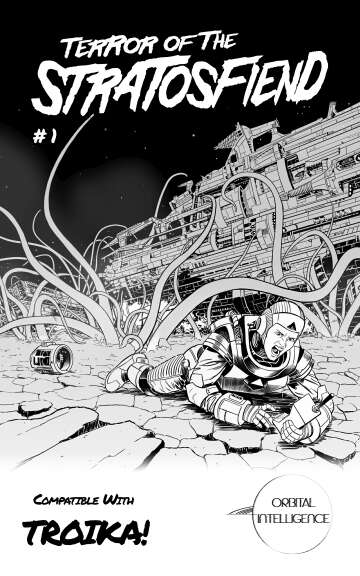 Please Allow 1-2 Business Days For Shipping